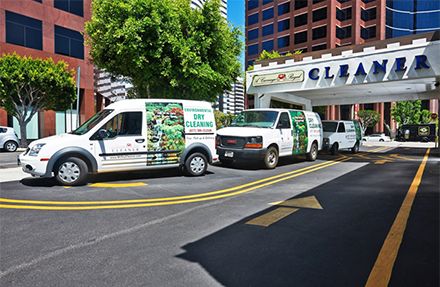 Our history is a long one, dating back to 1906 our family, the Green family, has been in the textile industry. Since then, we've become a leading force in the dry cleaning business, and our family has come to call Los Angeles home. Our legacy is that of excellence since the start and now we continue our legacy as Mr. Dry Cleaner.
Our team prides itself on providing excellent service and being the best dry cleaners in Woodland Hills. Our commitment to the community even stretches beyond our walls. Mr. Dry Cleaner uses a variety of eco-friendly practices to ensure the continued health of the community and the environment.
Former UCLA Coach
Rick Neuheisel Recommends Us
A Carriage Regal is a proud UCLA bruin Sponsor. Watch this video testimonial by UCLA Bruins head Football coach Rick Neuheisel. "They are as good as it gets"
Sign Up For Monthly Charge Account!
Once you setup your account our office team will call you to set up payment. We then automatically bill your dry cleaning cost to any major credit card, hassle free each time we deliver your clothes back to your home or office.
PROFESSIONAL DRY CLEANERS WOODLAND HILLS
Mr. Dry Cleaner comes from a long line of success, and that is carried on through each garment you entrust to us. Our professional team of experts provides the highest quality cleaning service in Los Angeles. We are the best dry cleaners in Woodland Hills and the whole of Los Angeles County. This is because of our outstanding team and state of the art equipment that safely cleans each article of clothing without causing any damage. We're experts with fabric, fibers, and dyes. We carefully consider the composition of the clothing you entrust to us to give you the best cleaning possible. When you entrust Mr. Dry Cleaner with your clothing, your clothes will look brand new.
Dry Cleaning Pickup & Delivery In Woodland Hills
One of the excellent services that we offer at Mr. Dry Cleaner for your convenience is a laundry pickup and delivery service. This way you don't even have to come to the shop. We'll come to you. We deliver and pick up all over the city, from Beverly Hills to Malibu, from Calabasas to Studio City and everywhere in between. We will be there to make your daily life easier and ensure that you have clean clothes at all times. We are the best dry cleaners in Woodland Hills.
We Offer Pick Up & Delivery To The Following Cities In Los Angeles County:
San Fernando Valley Neighborhoods
Valley
Tarzana
Studio City
Sherman Oaks
Encino
West Hills
Agoura Hills
Topanga Canyon
West L.A
Brentwood
Westwood
Bel Air
Century City
Rancho Park
West L.A
Pacific Palisades
Culver City
Santa Monica
Beverly Crest
Beverly Glen
Cheviot Hills
Beverly Hills
Linda has been picking up my dry cleaning for a few years now. I can tell you she is awesome. I needed to get my dress shirt dry cleaned for my cousin's wedding in San Francisco. I was on a tight deadline and my shirt had a major Turkish coffee stain from the last time I wore it. I called Linda and told her my dilemma, she was at my location within an hour. I got my dress shirt back in 1 day and was able to wear it for the wedding. Steve and the entire staff at Carriage regal are great people. Great service and awesome people.
My co-worker recommended this place to me. I am very happy with my decision of trying this place, the prices here are very reasonable. They did a good job on my dry cleaning; Earlier I had given my heavy Indian dress for dry cleaning, which I wear only to weddings, It came out more beautiful when I picked it up. The owner, Steve is very nice. I highly recommend this place.
Pretty good place to quickly drop and pick stuff off, would recommend coming on the weekend in order to get the discount because, just like any other cleaner in Brentwood, they are pricey compared to the rest of LA